A Full Guide to the DMV
Listen
A Department of Motor Vehicles, more commonly called the DMV is a government agency on the state level found in every state of the United States This agency administers driver licensing and vehicle registration for individuals. The term DMV is used in most but not all states. Furthermore, every state does not necessarily assign the same traditional functions to their respective DMV. However, the term is national understood to be the agency responsible for driver's license issuance and renewal. Function of the DMV Depending on the State, the DMV can provide many difference services. However, the more general services are provided on a national level. Driver's licenses and Identification Cards Unlike countries that national identification card, the United States uses driver's licenses unofficially as the de facto national identification card for a variety of purposes, effectively making DMVs the responsible agency for verifying an individual's identity in the DMV's respective states. Individuals who do not have a driver's license can also receive identification cards that provide the same proof of identity at their local DMV as well. Depending on the state, there may be restrictions on who can obtain this card. Driver Certification In certain states, DMVs are in charge of regulating private driving schools as well as the instructors of these schools. These responsibilities are in addition to conducting hands on and written driving tests. Vehicle Registration In the United States, DMVs are the responsible agency for providing identification numbers for motor vehicles, either through a temporary tag or a permanent vehicle registration plate. The vehicle registration program that the DMV uses helps give detailed vehicle information about a vehicle. This information can be used to prevent automotive related crimes. For example, by keeping track of a car's odometer history, the DMV helps prevent the crime of odometer fraud. Often, a DMV will allow third parties to issue certain registration materials. These can include businesses that concentrate on paperwork regarding processing registration applications or car dealers. These parties are given direct access to the DMV systems. Dealers are often given permission to use their respective state's electronic vehicle registration program. Vehicle Ownership A state's DMV typically handles an automobile's certification through the issuance of a vehicle title. The types of vehicles that can be certified by a DMV vary by state. Almost all DMV agencies title motor vehicles that are used on roadways. However, the DMV is not always responsible for titling mobile homes, boats, or other off-road vehicles. Often, these vehicles are titled through other agencies, for example, the Department of Natural Resources. Since the DMV is the responsible agency for issuing vehicle titles, they are also often responsible for keeping a track of liens made that use an automobile as collateral for a secured loan. Many DMVs provide forms for Electronic Lien and Title programs. Law Enforcement (DUI etc..) One of the most important responsibilities of the DMV is to enforce both state and federal laws that pertain to motor vehicles. Often, a state's DMV will have sworn law enforcement officials who work to enforce DMV regulated as states in the respective state's laws. Examples of policies enforced by these officers include cases involving fraudulent license plates, registrations, or thefts of legitimate ones. These officers can also inspect independent inspections stations that are licensed by the state's DMV. Sometimes, these inspection stations will violate regulations that are codified by the law. An example of this is allowing a vehicle to pass inspection despite having windows that are tinted below the legal limits as discussed by the state laws. These stations can be penalized with a fine of $1,000 for a first offense and suspension of the station's inspection permit for 30 days. More serious consequences such are permanent revocation of the inspection permit is possible for repeat offenders. In comparison to standard law enforcement officers, law enforcement agents of the DMV operate with more flexibility when using their specific police powers. Unlike a citizen's constitutional right to not meet or speak with a sworn law enforcement officer when under investigation, there is no equivalent right protecting an individual's motor vehicle registration. Another example includes the consequences of refusing to take a test to determine an individual's blood alcohol content. Even if evidence cannot sufficiently find that a person was impaired due to alcohol, a DMV can take a person's driving privileges due to refusing to take a sobriety exam. Miscellaneous Responsibilities of the DMV Depending on the DMV, the responsibilities of the agency can extend beyond these and include the following: Registering an individual as an organ donor Issuing voter registration cards Issuing, renewing, replacing, or expediting passports Issuing passport cards or enhanced driver's licenses Issuing international driver's licenses Important Forms and Publications from the DMV Although the forms and publications vary from state to state, all DMVs provide important materials that drivers should take advantage of when necessary. Some of the publications include: Driver's manuals: All states within the United States publish driver's manuals to help teach new prospective drivers the rules of driving the road. Driver's handbooks: Driver's handbooks are published by the DMV to help discuss the rules and regulations of the state. Vehicle Code: Each individual state has a collection of laws relevant to that state that are typically called the traffic code or vehicle code. These codes can often be found through a local DMV. Bill of Sale: Many states provide a State specific official bill of sale form. These forms can be found through the DMV or can be downloaded online for free. Forms: Each DMV has specific forms that often state specific and can be obtained either in person or downloaded online. Typical forms include: Crash report forms Driver record requests Driving school enrollment forms Forms for replacement, renewal, or duplicate licenses Title forms Registration forms Liability insurance forms CDL forms Certificate of vehicle inspections Various medical-related forms such as disabled plates Change of address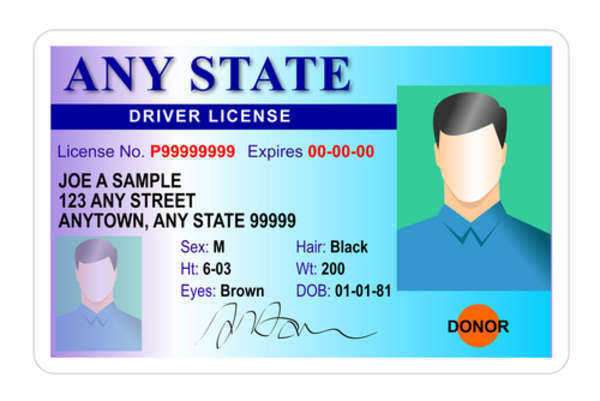 A Department of Motor Vehicles, more commonly called the DMV is a government agency on the state level found in every state of the United States This agency administers driver licensing and vehicle registration for individuals. The term DMV is used in most but not all states. Furthermore, every state does not necessarily assign the same traditional functions to their respective DMV. However, the term is national understood to be the agency responsible for driver's license issuance and renewal.
Function of the DMV
Depending on the State, the DMV can provide many difference services. However, the more general services are provided on a national level.
Driver's licenses and Identification Cards
Unlike countries that national identification card, the United States uses driver's licenses unofficially as the de facto national identification card for a variety of purposes, effectively making DMVs the responsible agency for verifying an individual's identity in the DMV's respective states. Individuals who do not have a driver's license can also receive identification cards that provide the same proof of identity at their local DMV as well. Depending on the state, there may be restrictions on who can obtain this card.
Driver Certification
In certain states, DMVs are in charge of regulating private driving schools as well as the instructors of these schools. These responsibilities are in addition to conducting hands on and written driving tests.
Vehicle Registration
In the United States, DMVs are the responsible agency for providing identification numbers for motor vehicles, either through a temporary tag or a permanent vehicle registration plate. The vehicle registration program that the DMV uses helps give detailed vehicle information about a vehicle. This information can be used to prevent automotive related crimes. For example, by keeping track of a car's odometer history, the DMV helps prevent the crime of odometer fraud.
Often, a DMV will allow third parties to issue certain registration materials. These can include businesses that concentrate on paperwork regarding processing registration applications or car dealers. These parties are given direct access to the DMV systems. Dealers are often given permission to use their respective state's electronic vehicle registration program.
Vehicle Ownership
A state's DMV typically handles an automobile's certification through the issuance of a vehicle title. The types of vehicles that can be certified by a DMV vary by state. Almost all DMV agencies title motor vehicles that are used on roadways. However, the DMV is not always responsible for titling mobile homes, boats, or other off-road vehicles. Often, these vehicles are titled through other agencies, for example, the Department of Natural Resources.
Since the DMV is the responsible agency for issuing vehicle titles, they are also often responsible for keeping a track of liens made that use an automobile as collateral for a secured loan. Many DMVs provide forms for Electronic Lien and Title programs.
Law Enforcement (DUI etc..)
One of the most important responsibilities of the DMV is to enforce both state and federal laws that pertain to motor vehicles. Often, a state's DMV will have sworn law enforcement officials who work to enforce DMV regulated as states in the respective state's laws. Examples of policies enforced by these officers include cases involving fraudulent license plates, registrations, or thefts of legitimate ones.
These officers can also inspect independent inspections stations that are licensed by the state's DMV. Sometimes, these inspection stations will violate regulations that are codified by the law. An example of this is allowing a vehicle to pass inspection despite having windows that are tinted below the legal limits as discussed by the state laws. These stations can be penalized with a fine of $1,000 for a first offense and suspension of the station's inspection permit for 30 days. More serious consequences such are permanent revocation of the inspection permit is possible for repeat offenders.
In comparison to standard law enforcement officers, law enforcement agents of the DMV operate with more flexibility when using their specific police powers. Unlike a citizen's constitutional right to not meet or speak with a sworn law enforcement officer when under investigation, there is no equivalent right protecting an individual's motor vehicle registration. Another example includes the consequences of refusing to take a test to determine an individual's blood alcohol content. Even if evidence cannot sufficiently find that a person was impaired due to alcohol, a DMV can take a person's driving privileges due to refusing to take a sobriety exam.
Miscellaneous Responsibilities of the DMV
Depending on the DMV, the responsibilities of the agency can extend beyond these and include the following:
Registering an individual as an organ donor
Issuing voter registration cards
Issuing, renewing, replacing, or expediting passports
Issuing passport cards or enhanced driver's licenses
Issuing international driver's licenses
Important Forms and Publications from the DMV
Although the forms and publications vary from state to state, all DMVs provide important materials that drivers should take advantage of when necessary. Some of the
publications include:
Driver's manuals: All states within the United States publish driver's manuals to help teach new prospective drivers the rules of driving the road.
Driver's handbooks: Driver's handbooks are published by the DMV to help discuss the rules and regulations of the state.
Vehicle Code: Each individual state has a collection of laws relevant to that state that are typically called the traffic code or vehicle code. These codes can often be found through a local DMV.
Bill of Sale: Many states provide a State specific official bill of sale form. These forms can be found through the DMV or can be downloaded online for free.
Forms: Each DMV has specific forms that often state specific and can be obtained either in person or downloaded online. Typical forms include:
Crash report forms
Driver record requests
Driving school enrollment forms
Forms for replacement, renewal, or duplicate licenses
Title forms
Registration forms
Liability insurance forms
CDL forms
Certificate of vehicle inspections
Various medical-related forms such as disabled plates
Change of address